Commissioned Research
Definition of commissioned research
Commissioned research is conducted by researchers from YNU as commissioned by a private institute or the like. The research outcomes are reported to the delegating party.
Private institutes do not need to dispatch their researchers to YNU.
As a general rule, about 30% of the direct costs must be allocated to indirect costs.
For more details, please refer to the YNU Rules for Joint Research(in Japanese).
Procedure for initiating commissioned research
Without preassigned researchers
Please look for the right researchers through the search website or a technical consultation.
With preassigned researchers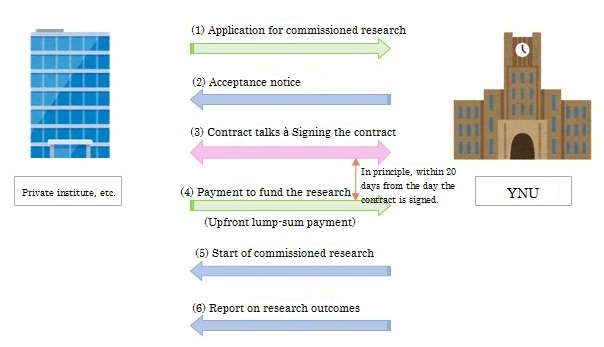 The director of a private institute or the like submits an application for commissioned research to YNU.
The application is accepted after the internal review at YNU.
Contract talks between the applicant and YNU A template for a commissioned research contract is available to fill-in certain information, depending on the specific circumstances.
Payment to fund the research Please kindly agree to an upfront lump-sum payment.
The commissioned research is commenced.
YNU reports research outcomes.
Handling of research outcomes
In principle, research outcomes shall belong to YNU.
YNU considers licensing and other matters relating to the handling of research outcomes on a case-by-case basis to flexibly respond to the request of each partnering private institute.
Tax exemption for special testing and research costs
Joint research conducted by YNU and companies and commissioned research both qualify for tax exemption. Preferential tax treatment is provided once certain conditions are met.
Please declare in advance if you intend to apply for tax exemption for special testing and research costs.
Accepted commissioned research
Please click here for more details.
Contact
Industry-university and Local Collaboration Division, Industry-university Collaboration Team, Yokohama National University
79-5 Tokiwadai, Hodogaya-ku, Yokohama 240-8501,
Fax: +81-45-339-4387
E‐mail:sangaku.sangaku*@*ynu.ac.jp(please remove the asterisk marks)