YNU Research Innovation Symposium
A robust partnership with industry holds the key to enhancing the value of universities, in addition to their track records in education and research.
Universities are strongly expected to boost innovation by partnering with industry and thereby provide new value to our society. The quality of such partnerships for innovation must be high enough for companies to make a serious commitment.
With this in mind, since 2017 YNU has been hosting an annual University-wide symposium to strengthen partnerships, including with
companies operating research centers in Kanagawa Prefecture.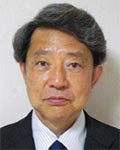 Naoya Kaneko, Director,
Office of Industry and Community Liaison